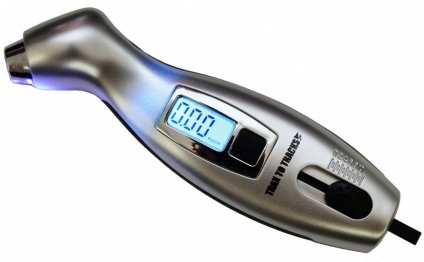 Digital pressure Monitor
Incepted in the year 1965 by Mr M.D.Bhate, we are engaged in manufacturing a wide range of blood pressure instruments under our registered brand name Diamond. We are the first to get ISI quality mark for Sphygmomanometers along with an approval from defense department, and State Government against rate contract. Our range includes Blood Pressure Instruments Mercurial, Dial & Digital type, NIBP monitor, Diamond Stethoscope, Manual & Electronic Tourniquet.

Being the largest manufacturer of Sphygmomanometers and having a network of more than 700 competent dealers has helped us to hold a major market share since last 3 decades. We commenced our export inquiries around 1980s. Our owner's experience of 40 years and our committed and dedicated professionals enables us in the production process. Backed by their industrious efforts we are able to garner complete client satisfaction.
DIGITAL BLOOD PRESSURE MONITOR (Fully Automatic)
FEATURES:
Elegant look
Reliable and accurate measurement
Memory with real time clock and date
Fuzzy measurement for faster readings
Systolic / Diastolic B.P. & Pulse rate measurement
Clinically proven accuracy
Special cuff for comfortable use & more durability
Mercurial B.P. Apparatus with built in stethoscope
FEATURES:
Proven and universally accepted method.
An arm cuff with built in stethoscope
Proper placement of stethoscope to give confirmed sound beats
Automatic, Constant speed deflation valve.
Whole system placed in a designer pouch
Simplest method for measuring one's own Systolic and Diastolic blood pressure.
Classic aesthetics
D ring cuff with inside bladder, bulb and tubing made out of natural rubber
Choice of metallic paint finish
Stethoscope with Double Chest Piece
FEATURES:
Produced from high quality superb material
Stethoscope has a very sensitive chest-piece
It is provided with soft earpieces for user's convenience
Covers an essential range of sounds
Very convenient to use, gives full satisfaction
It comes with extra diaphragm and a set of earpieces
This is a popular model, especially for medical professionals
SUPER DELUXE Mercurial B.P.Apparatus
FEATURES:
Purity of mercury: 99.99% due to triple distillation
Level:0 to 300 mm of Hg scale
Elegant finish
Scratch proof paint finish
Fine numbering
Scale with Durable, Background contrast paint for clear visibility
Permanent graduation marking on the glass tube
Special control valve for perfect pressure drop
Best quality cuff with inside bladder, bulb and tubing made out of rich latex
LCD BAR B.P.APPARATUS
FEATURES:
Digital Pressure Readout on LCD column and Numerical display
LCD column can be kept in any slanting position as per convenience
Facility to make back light of LCD automatically ON while taking measurement
Provision for marking the pressure value when Systolic & Diastolic is diagnosed by you
Pulse rate display at the end of measurement
B.P. Apparatus @ Field Calibration Feature
FEATURES:
Facility to self-calibrate Dial Gauge on field
Casing is of a high profile Al-Zn alloy produced by Pressure Die Casting
Bellows are of proven material for long lasting and better repeatability
Sector mechanism is specially designed for maximum repeat accuracy
Soft carrying case for ease in handling
Metal parts are treated with Nickel and Chromium plating to prevent corrosion
All plastic and rubber parts are of first grade virgin material
Crystal clear cover glass for best visibility
Best quality painting is adapted to whole body of the instrument
Special cuff is provided for getting excellent grip
Source: www.hhmglobal.com
Share this Post
Related posts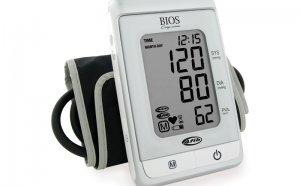 DECEMBER 05, 2023
BIOS Medical - ULTRA BLOOD PRESSURE MONITOR WITH ATRIAL
Read More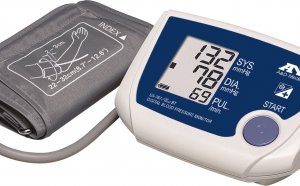 DECEMBER 05, 2023
The 5 Series home blood pressure monitor with Omron's Advanced Accuracy helps ensure consistent, precise readings. This model…
Read More